Copy to clipboard from browsers can be done by using zclip jquery plugin. Here we can see about how it's work with multiple links .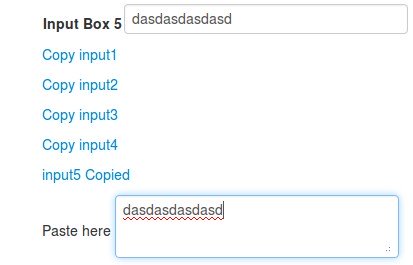 Here we require below files . just download these files for local use
» https://ajax.googleapis.com/ajax/libs/jquery/1.9.0/jquery.min.js
» http://www.steamdev.com/zclip/js/jquery.zclip.min.js
» http://zeroclipboard.googlecode.com/svn-history/r10/trunk/ZeroClipboard.swf
Now open jquery.zclip.min.js and set ZeroClipboard.swf file path.
path:"ZeroClipboard.swf"
Javascript and CSS :
HTML part :
Input values and copy links are identified from their respective id attributes.
Jquery code :
Jquery code is very simple , refer the comments .
Full code :