Zoom is a popular video conferencing software. It is commonly used for conducting online meetings, virtual classes, web conferencing, live chat and even more. In this article, we will see how to install Zoom on ubuntu 20.04.
Recently zoom becomes more popular during lockdown. Even it made a headlines because of security bug. Apart from that It is reliable, light weight and cross platform application which supports windows, macOS, Linux, Mobile devices and even more. Like other application, Zoom has both free and paid versions. We can use free version for personal use and host up to 100 participants.
Mostly schools and universities use Zoom to take virtual classes to their students.
Install Zoom on ubuntu 20.04
Zoom application is not available in ubuntu repository. so we have to download from zoom official site and install it manually.
Step 1. Download the application from the following link https://zoom.us/download?os=linux
Choose "Linux Type" as Ubuntu and version as "14.04+".
[OR]
Download the software directly using below command. This will download the software to the currect directory.
wget https://zoom.us/client/latest/zoom_amd64.deb
Step 2. Go to the directory where the software was downloaded. Check and provide execute permission.
user@krizna:~$ ls -l zoom_amd64.deb
-rwxrwxr-x 1 user user 41529568 Apr 30 15:01 zoom_amd64.deb
Provide execute permission to avoid errors.
chmod +x zoom_amd64.deb
Step 3. Finally, Install the software using below command. This command will install the software along with dependencies.
sudo apt install ./zoom_amd64.deb
Step 4. After installation, you can launch Zoom using application launcher.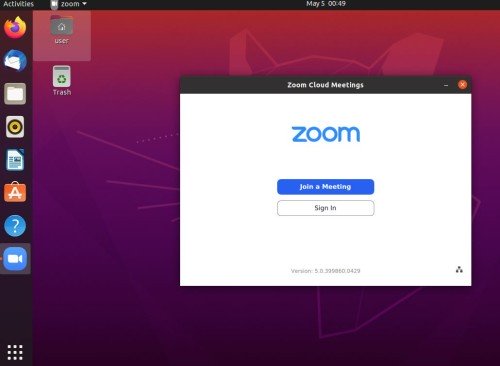 Additionally, you can test zoom application by joining test call using the following link "https://zoom.us/test"
See also
How to install TeamViewer on ubuntu 20.04
How to install Anydesk on ubuntu 20.04